Description
Forget the old traditional clippers! Our new improved Petpoint™ nail clipper is the lifesaver you have been looking for. Make cutting your pet's nails much safer, easier, faster and get the best results. Save yourself the vet visits.
Descriptions and characteristics
New: Revolutionary nail trimmer for your dog or cat. This is the latest and fastest way to keep your pet's nails round and smooth without any problems!
Painless: If your pets are afraid of cutting their nails, you are in good hands with us. Cut the nails precisely, round and smooth without worrying about cuts, unpleasant pain or bleeding. Let your pet's paw be groomed.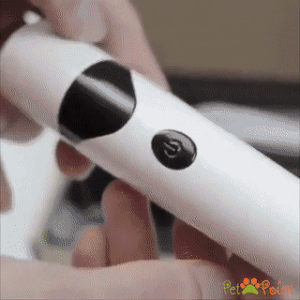 Low noise: Equipped with a brass shaft with damping and a unique damping technology that easily manages to gently remove thin layers of nails. Sensitive dogs are no longer afraid, which makes it easier to shorten the work when clawing!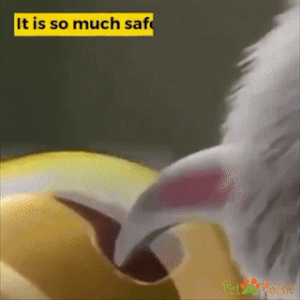 USB charging: Save money! This new nail trimmer is equipped with a USB port and comes with a USB cable. Once fully charged, the Nail Trimmer will work continuously for up to 3 hours. You do not need batteries anymore.
Save money on grooming: you no longer need to go to the vet or grooming. You can easily do it yourself, without any risk.
Easy cleaning: The grindstone can be easily removed for cleaning. Rub the surface with a soft cloth or tissue.
Suitable for all animal sizes: The nail trimmer has three openings for three different nail sizes. In addition, you can completely remove the cover for large dogs. Choose a suitable one depending on the size and characteristics of the nail.
Instructions:
Step 1: Select the appropriate port/hole based on the size and characteristics of the pet's nails.
Step 2: Hold the nail trimmer with one hand and hold the pet's nails with the other hand. Gently insert the nail into the port and then start grinding.
Step 3: Remove the plastic cover of the sharpener by turning it counterclockwise, turn it on and carefully clean the surface of the nail sharpener with an eraser, paper or cloth to remove the nail powder.
Cleaning:
After sharpening, remove the plastic cover of the grinder by turning it counterclockwise, turn on the claw sharpener and carefully clean the surface of the nail sharpener with an eraser, paper or cloth to remove the nail powder.
Tips:
Reward your dog for encouragement before and after nail trimming. Be sure to adjust the cleaning angle to polish the nails. You and your pet will love this premium rechargeable nail sharpener!
Dangers with too long claws:
Many dogs have musculoskeletal problems due to, among other things, too long claws. Especially muscle tension and back problems are the result.
If you think about it more carefully, it is not surprising.
You only have to imagine that you are walking on shoes with small heels. Except that the heel is not at the back of your heel, but at the front under your toes. And then you think about how it feels to walk a few hundred yards in them… Not very comfortable, is it?
Just as shoes with a heel in front would change our gait extremely, too long claws change the statics of the dog.
Shortening claws is important!
You do not dare to shorten the claws yourself because you are afraid of hurting your dog? And your dog won't keep still at your vet?
It does not always have to be shortening with claw pliers! With the new dog nail trimmers you can easily do it yourself.
Specifications:
Charging time: 2 hours
Duration: 3 hours
Input: AC100V-240V 50Hz / 60Hz
Output: 5V / 350mA
Charging mode: USB charging
Battery: Built-in battery
Package includes:
1x Petpoint nail grinder
1x USB charging cable
1x instruction manual in English
1x spare grinding head (optional)
100% SATISFACTION GUARANTEE:
We want you to be completely satisfied with every purchase you make. If you are in any way dissatisfied with any product you have ordered, we will exchange, replace or refund your money within 30 days of purchase. No ifs or buts. Just send us an email and we will take care of you.